(Finally Mt. Fuji made its appearance on my way back home...though I did not bring back any stone as an evidence for the day... )
Diplomacy of Ancient and Modern Days
Mr. Kim Dae-jung, former President of South Korea, died recently of disease.
http://news.bbc.co.uk/2/hi/in_pictures/8206943.stm
He could speak Japanese fluently, and finally is found to be not anti-Japan in his career.
("Kim Dae-jung" is pronounced as "Kin-Dai-Chu" in Japanese, since his name is expressed in Kanji letters.)
Accordingly, Mr. Kim Jong-il, head of North Korea, has sent an envoy to Seoul to show the last respect to his once-so-friendly counterpart in the south.
One of the big concerns about the Japan's coming regime change is how the new Cabinet to be formed by the DPJ will approach North Korea.
How can Mr. Yukio Hatoyama, next prime minister so hopeful, and his possible Cabinet take back Japanese citizens having been abducted by, and kept in, North Korea who has used them for illegal spy activities against Japan and S Korea for decades?
Though Japan is now in the fierce general election campaign period, families of those abductees, such as the respectable Yokotas and the respectable Arimotos, seem to be keeping very modest attitudes and remaining silent observers. It is well known that former Prime Minister Mr. Shinzo Abe has been a strong supporter for those long-suffering families as he visited Pyongyang on September 17, 2002, with then P.M. Mr. Junichiro Koizumi and met Mr. Kim Jong-il for diplomatic negotiations.
Recently former U.S. President Mr. Bill Clinton flew to the capital of N Korea to talk with Mr. Kim Jong-il and successfully bring back two female American journalists to the U.S.
So,
next Japan's Prime Minister most hopeful Mr. Yukio Hatoyama had better build his strategy against North Korea in cooperation with Mr. Koizumi, Mr. Abe, and Mr. Clinton (rather than with pro-N Korea Japanese socialists and leftists),
if incumbent Prime Minister Mr. Taro Aso has no plan to fly to Pyongyang before August 30, the election day, which would surely change a tide of this general election campaign in favor of the LDP.
SECTION I: From Qin To Japan
There was a strange man 2200 years ago in China, named
Xu Fu ("Jyofuku" in Japanese),
a kind of sorcerer of a country near the East China Sea. His historical existence was proven when a village called Xu Fu village was confirmed in Jiangsu Province, China, in 1982.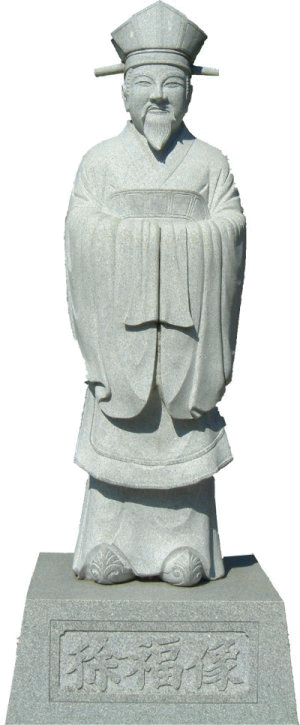 (http://www.asukanet.gr.jp/tobira/jofuku/jofuku.htm)
Xu Fu got permission to meet in person
the First Emperor of Qin,
who happened to be traveling for inspection of vast local territories he had conquered. Xu Fu said to the Emperor that if he was allowed to sail eastward from the Chinese continent with support of the Emperor, he would reach a "legendary holy land in the east" (which is believed to be Japan of ancient days) and bring back some arcanums that would give immortality to the Emperor.
----------
During his lifetime, he was sent by Qin Shi Huang [First Emperor of Qin] to the eastern seas twice to look for the elixir of life.

His two journeys occurred between 219 BC and 210 BC. It was believed that the fleet included 60 barques and around 5000 crew members, 3000 boys and girls, and craftsmen of different fields. After he embarked on a second mission in 210 BC, he never returned. Some sources have pointed to 500 boys and 500 girls instead. Various records suggest that he may have arrived and died in Japan.
http://en.wikipedia.org/wiki/Xu_Fu
----------
A story or report about Xu Fu, written in an official history book of China completed in 91 B.C., is
the first historical account or legendary that links ancient Japan to ancient China.
If it had been true, the First Emperor of Qin would be thought to have left, in history, great attainment of directly introducing the ancient Chinese culture to Japan, in parallel with the construction of
the Great Wall of China
and
the Great Mausoleum
with a great underground palace protected by thousands of lifelike images of soldiers and horses.
Or, from a historical point of view, the Emperor's sending Xu Fu and his band to the east seas and eventually to Japanese islands was more important than such construction work.
In the case, though the first Emperor of China could not obtain the elixir of life having been believed to exist in a holy land in the east sea, according to a holy oral tradition of ancient China, he greatly contributed to cultural development of Japan (which is however strangely not explicitly recorded in the Japanese history).
There are many locations in Japan where local people have claimed from older days that Xu Fu arrived there ages before. For example, very possible landing beaches for Xu Fu and his followers are spotted in Saga Prefecture, Kyoto Prefecture, Wakayama Prefecture, and so on.
(http://inoues.net/mystery/jyofuku.html)
Japanese people love the legend about Xu Fu having come from ancient China and stayed in Japan, thought historically it was about 200 BC, while the start of the history of Japan's Imperial Family was about 500 BC.
(It is thought that Xu Fu had no intention to return to China and the First Emperor of China with the elixir of life that might be found in Japan, because the Emperor was well known for his cruelty and severe oppression of people. Xu Fu succeeded in deceiving the Emperor, in this context. )
(http://blog.nihon-syakai.net/blog/2013/01/2485.html)
SECTION II: Japan's First Emperor Jin-Mu and Xu Fu
Chinese people or the Han people are sophisticated people in academic study, scientific study, and fact-finding efforts.
So, it is impossible to deny credibility on the episode written in an official history book of China, if it had been prepared 2100 years ago.
It must be true that the First Emperor of Qin sent Xu Fu and his followers to an island in the east of the Chinese continent.
And, it must be also true that Xu Fu landed on Japan, probably on a shore of the Kyusyu Island or the Kii Peninsula, 2200 years ago, as local oral traditions suggest.
If this historical fact is related to the Japanese Myth and it is so proved, it could change the history of Japan.
It is so, since some historians in Japan and China consider that Xu Fu might be in fact
the First Emperor of Japan, "Jin-mu."
However, there is one difficult question: start of the use of Kanji or Chinese letters in Japan.
If Xu Fu had been able to read and write Chinese letters, he must have left something, like a wooden plate or a stone tablet, where letters were inscribed or etched. But, such materials and evidences have not been discovered in Japan. The oldest earthen vessel or the like, so far found, on which a letter was inscribed is thought to be from around A.D. 200.
But, as Xu Fu was not a gentleman or a scholar living in a capital of a country Qin had defeated and occupied, it is very likely that Xu Fu and his men could not read and write letters.
Actually, according to the Japanese Myth, the First Emperor of Japan "Jin-mu" advanced from the Kyusyu Island to the Kii Peninsula over the sea. Emperor Jin-mu landed on a beach not far from the one Xu Fu arrived at according to a folk tradition.
(http://www.mitene.or.jp/~hayamine/file2/kamikura.htm)
Though it is almost impossible to believe that Xu Fu is the true and direct ancestor of the present Imperial Family of Japan, Xu Fu and his followers must have contributed to growth of dominant tribes and ruling families of ancient Japan.
SECTION III: Japanese Myth and Qin of China
Emperor Jin-mu advanced to the Nara basin across the Kii Peninsula after having started from Kyusyu and travelling the inland sea, according to the Japanese Myth, though it was about 500s B.C. while Xu Fu's arrival at Japan
around 200 B.C.
In fact, on the Nara basin called "Yamato," the Japanese Imperial court was first established.
Until the Imperial capital was moved to the Kyoto basin
around 800
, the Nara region or Yamato had been one of the advanced areas and the power centers, since rice cropping had prevailed in most of the southern half of the Japanese islands
in 300 B.C.
or so.
(In those days, most of the Osaka plain in the west of the Nara basin was a large lake connected to the Osaka bay and the inland sea linking Nara to northern Kyushu facing the Korean Peninsula.)
Even historically famed and important Queen "Himiko" of "Yamatai" must have presided over the ancient royal court of Japan or "Wa" in the Nara basin
in the third century
.
The reason why the Nara basin became the original Imperial capital must be that some powerful group of people led by a powerful leader, like Xu Fu, had marched into the place.
Nonetheless, the Imperial Family of Japan must be independent from China in terms of its origin to be fully respected by Japanese people. And, Xu Fu and his followers must have hated China having been exposed to the tribulation of wars.
Therefore, if there had been any association between the ancient Imperial Family of Japan and Xu Fu, it must have been hidden. Yet, this association can be reflected in the Japanese Myth, especially on the advancement of the First Emperor Jin-mu, who arrived at the Kii Peninsula from the sea, to the Nara basin 2200 years ago.
However, what must be understood here is that the Chinese First Empire Qin must have had a remote but significant influence on development of ancient Japan and its history.
It is so, since it was not only Xu Fu who fled the war-ravaged China to legendary holy islands in the east sea, namely Japanese islands.
A great number of nameless ancient Chinese must have abandoned China to reach Japan, since hundreds of thousands of workers are said to have been buried alive after completion of the Great Mausoleum for the First Emperor of Qin in order to keep a secret of treasuries installed underground, just as an example of his cruelty.
(To be continued...)
(Il s'agit d'un Debussy.

http://www4.osk.3web.ne.jp/~kasumitu/arabesque1.mid

Source: http://www4.osk.3web.ne.jp/~kasumitu/arabesque1.mid)
Joh 8:21 Then said Jesus again unto them, I go my way, and ye shall seek me, and shall die in your sins: whither I go, ye cannot come.

Joh 8:22 Then said the Jews, Will he kill himself? because he saith, Whither I go, ye cannot come.

Joh 8:23 And he said unto them, Ye are from beneath; I am from above: ye are of this world; I am not of this world.