Night in Tokyo around the Imperial Palace...
Money vs. Religion
The biggest invention in the human history is "money."
Mankind did invent money for convenience or as an inevitable result of their economic activities.
Money was powerful. Money was decisive. And money was institutional. But, behind money there were a fiend and many devils. So, mankind needs something to prevent influences of devils sneaking to them along with prevalence of money.
So, I once wrote:
When money economy started to prevail in China around 500 B.C., Confucius appeared there.
When money economy started to prevail in India around 500 B.C., the Buddha appeared there.
After money economy started to prevail in Palestine or around Jerusalem through the era of Caesar and Cleopatra, Jesus Christ appeared there as so expected.
http://eereporter.blogspot.com/2009/10/freely-ye-have-received-freely-give.html
In this context, we can understand why Christ Jesus emerged at the specific point of history in a specific place, namely 2000 years ago in a subject state of Ancient Rome. For example, the greatest hero of Rome Caesar succeeded in society using big money even before he distinguished himself on the field of battle to be recognized as the No.1 citizens of Rome.
But could it have been possible that mankind would have developed its society without money?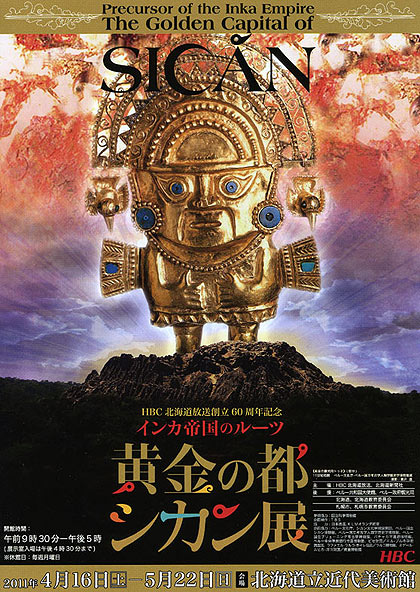 (The Pre-Inca Culture Exhibition in Japan,
http://www.aurora-net.or.jp/art/dokinbi/exhi/special/11/sican.html
)
Weren't there any other scenarios that mankind developed its civilization without invention of money? The Inca Empire of South America, which was destroyed by Spaniards in 1572, prospered for centuries without using money but governing and well feeding 10 million people and constructing some great structures. Yet, they could not withstand invasion by Europeans driven by desire to steal gold from Inca by force, if they called themselves Christians.
In Europe, with the collapse of the Western Roman Empire, money economy was interrupted.
http://plaza.rakuten.co.jp/tazyonoshinso/diary/201111080000/
(Ancient Rome...)
Probably, this is the most significant effect of the downfall of the Western Roman Empire. It was in 755 that some European kings started to use coins again. They followed a measure system of ancient Rome. Coins were mostly used for payment to soldiers. So, roughly from the 5th century to the 8th century, Europeans did not use money; economy of Europe was localized in each domain of feudal lords. So, modern Europeans today living are much closer to ancient Romans than to medieval Europeans.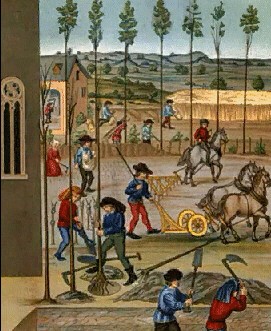 (Europe in the Middle Ages,
http://www.the-artfile.com/ArtFile/history/middleages/images/feudal.shtml
)
But, it was when an Islamic influence came to prevail in the era of Christian Crusades that money economy was fully revived in Europe. Ironically, the Vatican itself paved the way for money economy again in Europe by launching Crusades. Great movement of Europeans across the European Continent to the Middle East changed their paradigms. As Muslims and Arabs continued money economy without interruption since the era of the Roman Empire and the Greek Civilization, medieval Europeans' communications with Muslims resulted in full revival of money economy in Europe. And, the Vatican could not stop it.
(The Renaissance,
http://wcchai15.blogspot.com/2010/10/driving-forces-of-renaissance.html
)
However till the 13th century, Europe used only one type of coins: a 1.5 gram silver coin. But around the 13th century with expansion of trade, Europeans started to use gold coins and large-size silver coins. In other world for 800 years from the 5th century to the 13th century, Europeans did not use coins at all or used only one type of silver coins. Their economic paradigm must be very different from the one modern Europeans have. Anyway, Christianity truly prevailed in these 800 years in Europe, since Christianity is purely anti-money economy.
So, around 2000 or 2010, development of money economy hit its summit. Mankind has experienced evil of money enough. It is time for mankind to enter a new era directed to non-money economy. As the Second Coming of Christ has started around 2010, it is reasonable for mankind to get prepared for non-money economy as the first step toward the Kingdom of God.
(Protesters on Brooklyn Bridge - Photograph: Mario Tama/Getty Images,
http://bailoutpeople.org/dropchargesonwallstoccupiers.shtml
)
In the longest extension of Occupy Wall Street is the non-money economy. And in the non-money economy, 99% of people will live materially and spiritually satisfied without money though 1% might still stick to money that can buy only what 99% do not like to get and possess.
(Japanese Cartoon Comic Story "UTOPIA - The Last World War,"
http://twitpic.com/6cecv0
)
(To be continued...)
*** *** *** ***
Mar 10:15 Verily I say unto you, Whosoever shall not receive the kingdom of God as a little child, he shall not enter therein.