Along a National Road around Tokyo
The Closest Official to the Emperor
Sukemasa Irie (1905-1985) was not an ordinary man. He and his family had been so close to Emperor Showa (1901-1989) of Japan. Irie himself was the closest official to Emperor Showa.
Irie's parental family line could be traced back in history to the Fujiwara clan or Michizane Fujiwara, one of the most influential noblemen 1000 years ago whose daughters became empresses of three emperors. Specifically, the Irie family was a branch house of the Reizei house, notable for its mastership in 31-syllable Japanese poem called waka.
Irie's mother was a niece of the biological mother of the father of Emperor Showa, that is, Emperor Taisho who was the son of Meiji Emperor. Irie's father, a viscount, served the Imperial Family as the grand chamberlain for the crown prince (who later ascended to Emperor Taisho) and so on.
So, it was natural that Sukemasa Irie became professor in Gakushyuin University (originally founded for education of children of imperial families and the noble class) after graduating from the literature department of the Imperial University of Tokyo. And it was more natural that he soon quit the academic job to work in the Imperial Household Ministry in 1934. Since then Irie had been close to Emperor Showa through the long period of time before, during, and after WWII. He wrote many books about his experiences in the Imperial Palace and his private life.
Immediately after WWII, when Irie was walking around his house in Tokyo, a jeep of US military stopped before him. An American officer asked Irie how to get to Sophia University, a Catholic university in Tokyo. Irie tried to tell the way, speaking English. But as it was somewhat complicated, he thought it would be easier to guide the jeep, taking a ride on it. So, after some driving through streets of Tokyo still full of air-bombed buildings and debris, the US jeep could reach the University.
The American officer was so thankful that he asked Irie whether he was a professor of the University. Irie could not reveal that he was an official close to the Imperial House. He said that he had been a professor of another university. The US officer showed gladly his appreciation again, since Irie was not an ordinary man as he thought.
After this episode, Irie thought if he had been able to speak English better at the time, he might have been more respected.
Later, when Japan was still under occupation of the US military led by General MacArthur, the Emperor spent some days in an Imperial villa in Hayama Town, west of Tokyo Bay.
One day, the Empress went out to visit some war victims in another town with many officials and attendants. Meanwhile, the Emperor decided to take a walk on the shore before the villa. But, as most of officials and caretakers of the Imperial Family had gone with the Empress, only Irie and a policeman followed the Emperor.
When the three men were strolling around the coast line of Sagami Bay, where the Emperor sometimes conducted biological study, there appeared two young American soldiers with a camera. They were excited to happen to meet the Japanese emperor. They asked the Emperor whether they could take pictures of him. To a surprise to Irie, the Emperor approved the unprecedented wild action. But the soldiers asked further to have each of them stand by the Emperor to be taken in pictures. Irie thought it was too much, shouting, "Only, Emperor, Alone!" The two American soldiers understood the word, and yet gladly photographed the Emperor alone in the film.
After this episode, Irie wondered if his English had been so correct.
Decades later, Sukemasa Irie, grand chamberlain, wrote that speaking a foreign language was making a fool of oneself. His son could not speak English much better than his father, but he had some American friends and traveled to America sometimes. It must be because, Irie thought, his son was more shameless than his father.
Incidentally, it is reportedly said that Emperor Showa had a reasonable level of ability in English and French as he was also a biologist, though an interpreter was always present when the Emperor met with General MacArthur in person.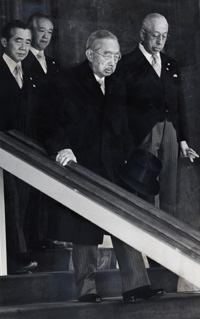 Emperor Showa (center), Sukemasa Irie (right), and other high-ranking officials (left) of the Imperial Household Agency in 1984
http://publications.asahi.com/ecs/detail/?item_id=8087
**** **** ****
Act 8:20 But Peter said unto him, Thy money perish with thee, because thou hast thought that the gift of God may be purchased with money.
Act 8:21 Thou hast neither part nor lot in this matter: for thy heart is not right in the sight of God.