Tokyo
Japanese Author Who Refused to Receive a Big Manuscript Fee
In 1962, Ryotaro Shiba started to write one of the greatest novels in Japan after WWII:
Ryuma-ga Yuku (Ryuma is on his move)
.
At the time he was a reporter of a newspaper company while presenting his works of literature to the public. And one day, the president of The Sankei Shimbun Newspaper where Shiba worked came to see him, offering a chance to write a serial novel in the newspaper, as Shiba's books got high reputation. Shiba didn't reply soon, keeping it on hold. Then, in another meeting, the president said to Shiba, "I will give you three years in writing a novel for our paper. The manuscript fee is a million yen per month." One million yen at the time is equivalent to 10 million yen (US$100,000) of today.
But Shiba refused, saying, "It is too much." Shiba told his wife the proposal by the president. Shiba's wife was also working in the newspaper company where the entrance salary was 17,000 yen at the time. So, the wife got angry, saying to her husband, "You should not receive such a big amount of money."
Put simply, when author Shiba wrote his first big best-seller as a serial novel for a newspaper where he had been working, the president offered a big money which the Shibas refused because it was so much.
But finally, the president said, "I will send a manuscript fee to you as much as I like, so that you can dispose of as much as you want by throwing the amount of money into a ditch."
In this way, Shiba decided to write a serial novel and quit the company to be a full-time author, though the theme of the novel was not decided. But, one of employees of the newspaper company came and asked Shiba to write about a hero in his home town called Sakamoto Ryuma who contributed to the success of the Meiji Restoration of 1860s where the samurai rule ended and Japan started modernization.
This is the background against Shiba's writing of
Ryuma-ga Yuku (Ryuma is on his move)
the number of whose copies soled has been about 25 million. This novel became so famous that it was televised and also put into a film. And this novel, with subsequent ones, made Shiba one of the leading novelists and authors in Japan after WWII.
Ryōtarō Shiba, born Teiichi Fukuda (August 7, 1923 – February 12, 1996), was a Japanese author best known for his novels about historical events in Japan and on the Northeast Asian sub-continent, as well as his historical and cultural essays pertaining to Japan and its relationship to the rest of the world.
https://en.wikipedia.org/wiki/Ry%C5%8Dtar%C5%8D_Shiba
Sakmoto Ryuma (or Ryouma) became a hero in the Japanese public due to Shiba's novel. He was a samurai born in Tosa (presently called Kochi Prefecture) in western Japan. He left a feudal county of Tosa governed by a samurai feudal lord. Then, he acted as an intermediary for anti-shgogun camps. The Tokugawa shogun (a kind of king of samurais) eventually gave up power along with a scheme Ryuma planned. Ryuma's reputation and influences got high among anti-shogun samurais who supported the Emperor as the actual ruler (not only nominal) of Japan to abolish the samurai regime governed by the Tokugawa clan.
However, Sakamoto Ryuma was assassinated by samurais under the shogun in Kyoto in 1867, just a few moths before the start of the Meiji Restoration. But, it is still controversial who specifically killed Ryuma under whose order, though it was clear that a unit of samurais guarding shogun Tokugawa Yoshinobu in Kyoto was involved in the sword attack to Ryuma in his hiding place. Indeed, the situation in Kyoto in 1867 was so tense and complicated while both the shogun and the emperor stayed there.
Sakamoto Ryuma is today regraded as one of main architects of the Meiji Restoration where power shifted from the samurai regime to the imperial court in 1868 and Westernization and modernization of Japan started with fully opening the nation to the world.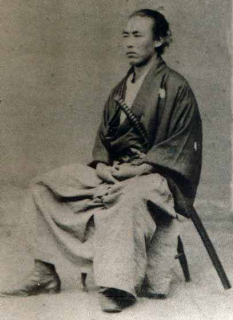 Samurai Sakmoto Ryuma
http://plaza.rakuten.co.jp/dragon1980/diary/?ctgy=29
**** **** ****
Mat 7:24 Therefore whosoever heareth these sayings of mine, and doeth them, I will liken him unto a wise man, which built his house upon a rock:
Mat 7:25 And the rain descended, and the floods came, and the winds blew, and beat upon that house; and it fell not: for it was founded upon a rock.